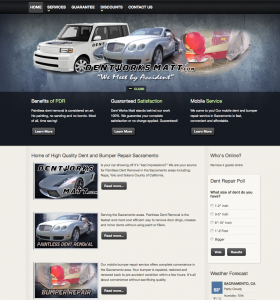 DentWorksMatt.com 530.668.4997 offers professional mobile service in Sacramento area. From door dings to minor dents, you'll save time and money. Not only just time and money but gas too because Matt come to you! That's right. Professional mobile service that comes to your home or office.
Why take your vehicle to a body shop and wait 2-3 days? Paintless dent repair is a proven method that will sustain your resale value and appearance. No painting, no sanding and no bondo! Complete satisfaction guaranteed. Email them your photos from their official website and click here!

Sacramento – Auto Paintless Dent Repair – Door DIng Removal (PDR)
Dent Works Matt is a highly experienced paintless dent repair (PDR) company based out of Sacramento California. Matt (Owner) is a well known and liked individual who takes his time to do the job right as well.
If you are in the Sacramento area and need a top quality repair, look up this guy! From door dings to minor dents, your vehicle is in good hand with DentWorksMatt.com. Most vehicles are repaired within 30-60 minutes without hurting you vehicle's resale value.