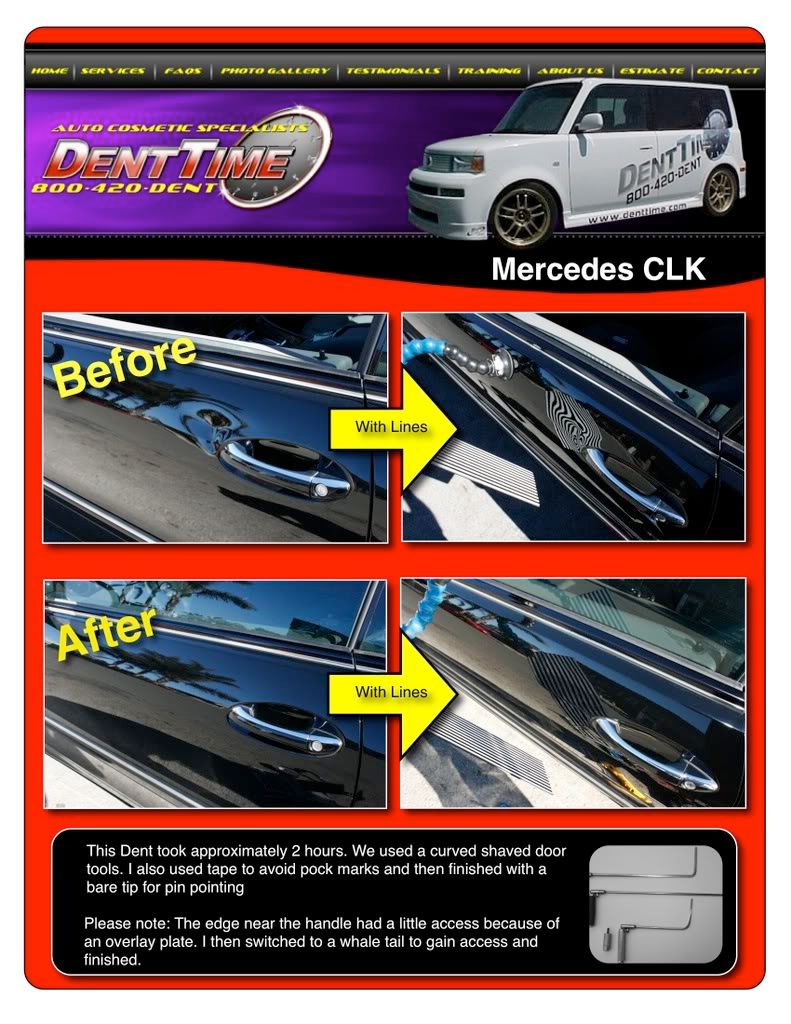 Post from Dent Time blog
When I saw this dent and I knew I had to at least take some photos and document my PDR process. I never get tired of taking photos of my work. Besides, it's really not work. To me it's having fun doing what I love. Paintless Dent Removal has become my passion behind marketing my passion. I also train PDR personally as well. From beginner to advanced, I share my passion and devotion to paintless dent removal and the auto reconditioning market.
Now enough about that. Let's briefly talk about this dent repair. It is quite intimidating indeed for any experienced tech. Although if you are an experienced tech, that feeling only last briefly until you begin to perform the job. Tools were essential. Wrong tools, wrong results. Although it takes more than tools to gain good results. A little patience, correctly reading the board and of coarse… experience.
I used a bladed shaved door tool (Ultra Dent Tools) to do most of the dirty work. I also used a knock down from (Dent Craft Tools) or (Dent Gear) to remove the crowns and highs. Now I can't just rush into the center. If I do, I will cause an oil can effect and then it will be a done deal, game over. I work from the top, then tap. I use this technique back n forth and switching sides in between so I keep the dent balanced.
Little by little within two hours, I have completed the job. No sanding, painting. Just one happy customer and a little satisfaction.
If you have questions about my PDR repair, please feel free to comment. You can also visit my official web site at DentTime.com
For a local PDR technician near you, vistit ReconExpress.com