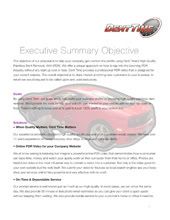 This clever proposal on sale at AutoLecture.com is a powerful marketing tool that does the work for you. The power packed proposal explains how your services can benefit their needs. The custom proposal comes with suggested ways you can approach you body shop clients as well. You don't even have to write up anything. Just fill in the spots with your company logo and name and whala! In minutes your company has a professional proposal ready for marketing.
The proposal comes with 2 other pages that are full color with eye candy icons and an overview of what you want to show case like: on time service, your experience and prices. AutoLecture.com plans on releasing a presentation of how the proposal looks without giving away their product.
Your order is emailed to you in a file where you can customize yourself or have AutoLecure.com do it for you as well.