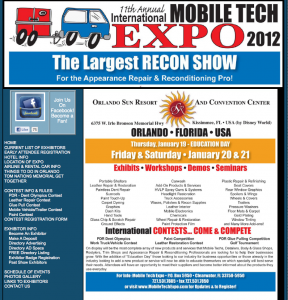 Ever heard of the Mobile Tech Expo? It's an expo for the auto reconditioning pro. A must go show for anyone offering mobile repair and services. From paintless dent removal to mobile auto paint repairs.
Last year, the 10th annual was the biggest tun out since it began in 2001. From tools and products that help the recon pro stay up to date, it's must go show. Work shops, seminars and even competitions like; PDR Olympics, bumper repair competition and a few others. The Mobile Tech Expo brings all recon pro techs together and help network.
We will post more videos and news before the event so please check this category often.